Introduction
The ever-changing realm of audio-visual technology with crystal clear images and immersive environments is at the forefront, and the projection screen plays an important part. It doesn't matter if you're a fan of movies, a professional or gaming fanatic, or an owner who wants to set up a home theater. Projection screens are the way to more extensive visually stunning immersive experiences. In this piece, we'll take you on a voyage to unravel the fascinating world of projection screens ranging from traditional to the most cutting-edge and look at how they've transformed how we look at our world.
The Art of Projection: A Brief Overview
The concept of projection images has been known since the beginning of time, going from shadow puppets found in the past of China to the first magic lantern plays in Europe. But, it was only during the 20th century that projection technology began to take off, thanks to the invention of the film projector, which allowed films to be projected onto silver screens.
As time has passed, technology has developed from large screens in cinemas to the comforts of our living spaces and the versatility of display screens. We'll explore the screen world of screens for projection, their various forms, and the latest developments that have made them an integral element of contemporary life.
Types of Projection Screens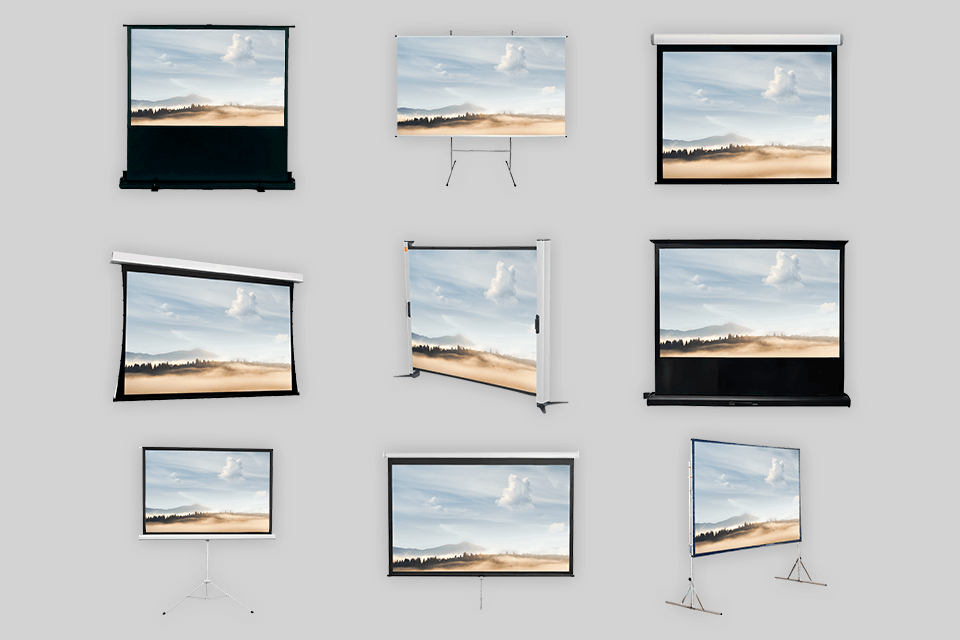 Projection screens are available in a variety of kinds, accommodating different requirements and settings. Below are a few of the most commonly used types:
Fixed Frame Projection Screens

 These screens can be permanently affixed to walls or frames, giving them an attractive and professional appearance. They're ideal for cinemas in homes or for conference rooms.

Motorized Projection Screens

 Motorized screens give you an ease of control via remote. When you press the button, they fall effortlessly, adding a touch of intrigue to any event or film night.

Portable Projector Screens

 are Ideal for people who need mobility. Mobile screens are easy to put up. These screens are ideal for outdoor film nights and corporate presentations that are on the move.

Manually Pull-Down Screens

 These screens can be manually controlled using an adjustable pull-down mechanism, which allows you to alter your screen size. They're cost-effective and ideal for small areas.

Tab-Tensioned Projection Screens

 Tab-tensioned screen maintains an even, wrinkle-free surface due to the tensioning system at the edges. They're ideal projection screens with high resolution in which image clarity is a must.
Classic Elegance: The White Projection Screen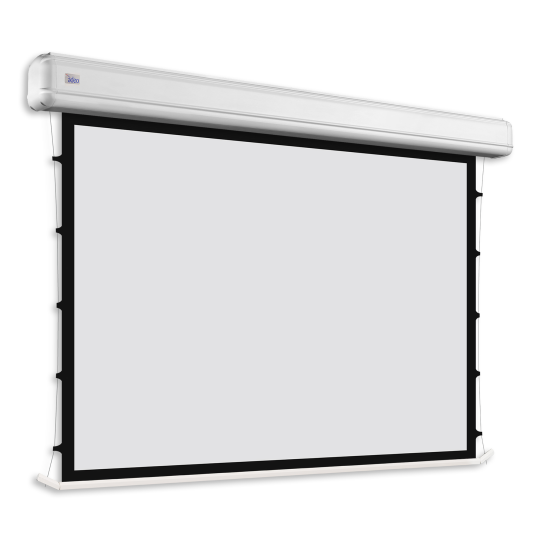 The traditional white screen comes to mind when we think about projection screens. They are timeless, flexible, and famous to many people due to their reflective qualities. Their surfaces are designed to spread light evenly, which results in bright and clear pictures. Although these screens have been used similarly for many years, modern technology has kept them in use.
Advances in Projection Screen Technology
The technologically advanced world has produced exciting developments in projection screens, improving our viewing experience in various ways. Take a look at the latest innovations in projection screen technology:
Ambient Light Rejecting (ALR) Screens:

 ALR screens are specifically designed to fight the problem of outside light, making them ideal for living spaces or spaces for meetings with windows. They disperse off-axis light and only reflect the image projected, which boosts brightness and brightness.

Transparent screens

 Audiophiles will appreciate the acoustically clear screens, which are an essential step forward. The screens let sound traverse the materials without degrading image quality, providing a seamless audio and visual experience.

4K and Ultra HD Compatibility:

 The rise of Ultra HD and 4K Ultra HD projector screens have been designed to take advantage of these super-high resolution displays. They feature finer textures and microstructures that can handle small details and provide breathtaking images.

HDR (High Dynamic Range) Enhancement:

 HDR technology offers a more fantastic range of colors and contrast ratios. Projection screens with HDR support take advantage of these capabilities that make your video content shine with bright colors and deep blacks.

Bright Projection Screens

 In the age of connectedness, intelligent screens have emerged. They come with integrated apps as well as Wi-Fi and streaming capabilities. They can be transformed into interactive platforms for entertainment and educational purposes.
Beyond the Home Theater: Commercial and Educational Uses
Projection screens aren't restricted to cinemas at home. They've found their way in a variety of educational and commercial contexts. The way they're creating a significant impact:
Business presentations:

 In boardrooms and conference rooms, projection screens can provide the representation with a vast canvas that makes data and images more memorable and engaging.

Education:

 For classrooms and schools, projected screens have replaced traditional blackboards. The screens let teachers enhance lessons with multimedia and interactive content, creating a more engaging learning experience.

Digital Signage

 Businesses make use of projection screens to advertise as well as information display. These vast, vibrant screens catch the eye of people walking by and effectively convey messages.

Simulation and Education

 In healthcare or aviation, projection screens can be used to create realistic simulations for training. Training students can practice in a controlled setting before confronting real-life situations.
Creating Your Oasis: Home Theaters
The idea of home theaters has gained immense recognition in recent years. The trend is to transform rooms into immersive cinemas. Projector screens play an essential function in creating a complete and immersive atmosphere.
With a high-quality projection screen, high-definition projector, and surround sound, you can enjoy your personal cinema any time you like. Select the type of screen and size that will best suit your room and revel in the majesty of the large screen while sitting in your living room.
Maintaining Your Projection Screen
It must be appropriately maintained to ensure your projector screen will stand the test years. Here are a few maintenance suggestions:
Regular cleaning:

 Dust and dirt build up on the surface of your screen, impacting image quality. Clean the screen gently using an e-cloth or cleaner designed for screen use.

Check for damage:

 Periodically check for tears, tears, or wrinkles within the material of the screen. Replace or repair damaged screens to preserve the quality of images.

Adjust Tension

 If you've got an untensioned screen, ensure the tensioning system works correctly to keep the screen's surface level.

Storage Properly

 If you own the screen on your portable device, put it in a safe location whenever not in use to avoid the possibility of damage.
The Future of Projection Screens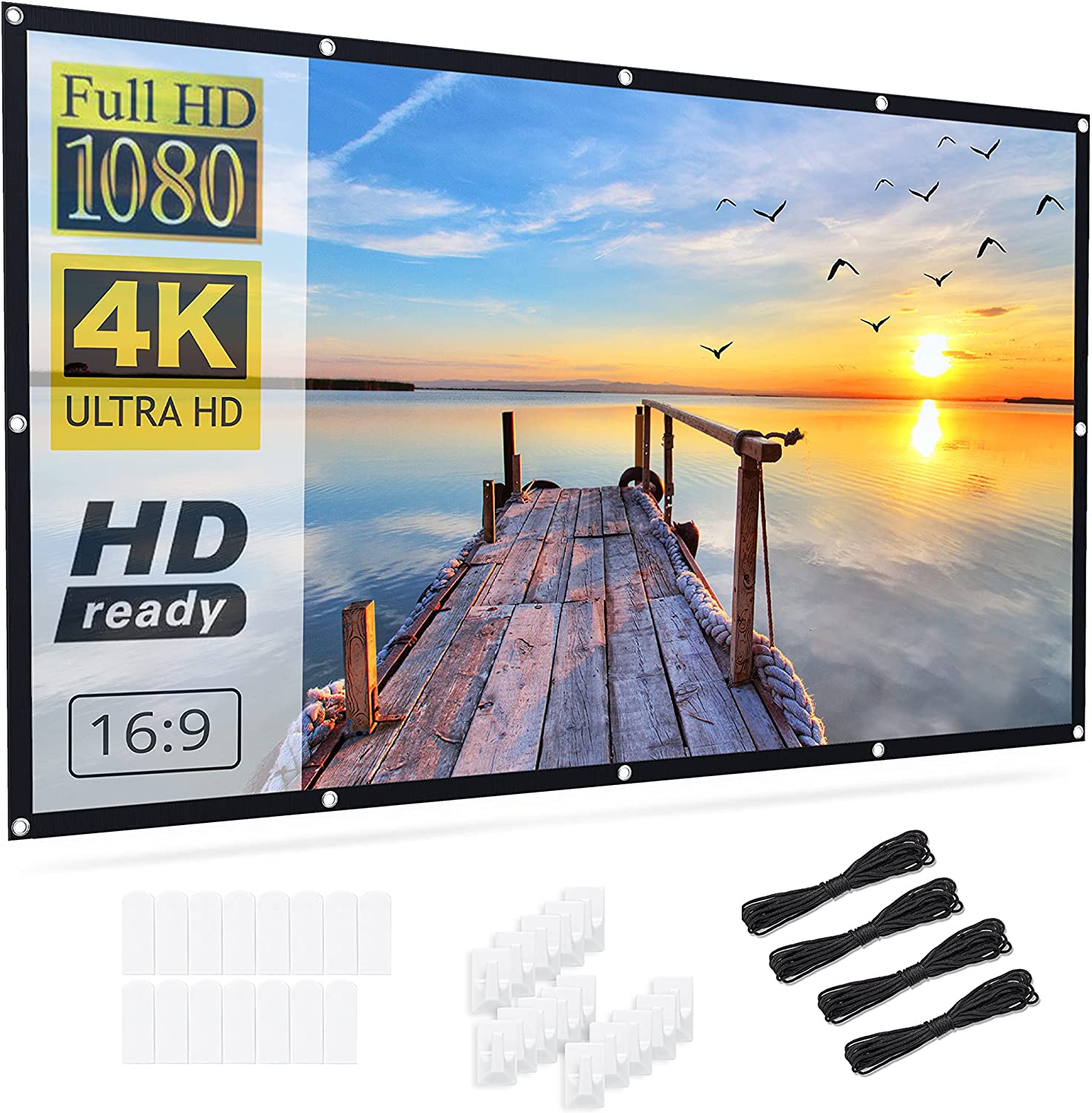 Technology continues to improve, and projection screens are expected to evolve even more. The projection screens we see in the future will be more flexible, adapting to new technologies for projection as well as offering better user-friendliness and mobility. The line between real life and the virtual world will likely become blurred when screens are integrated into our lives.
Conclusion
Projection screens, ranging from the primary white screen to cutting-edge bright screens, have made significant strides and have shaped how we see the world of images. They are used for everything from film-based experiences to enriching educational content and business presentations. While technology is constantly pushing the limits of what is feasible, projection screens will continue to be the leading source of delivering stunning visuals and thrilling environments. This means that whether you're a cinephile, a professional, or even a homeowner, the wonder of projection screens will be in full force, waiting to amaze and excite.
The projection screen is more than a screen; it's also an opportunity to imagine and a portal to other realms and humanity's constant quest to improve and innovate. Through projection screens, we let our ideas come into reality, each pixel at a.
Related: The Magic of Projectors: Best Home Cinema Projectors